About Prokraft
Prokraft started completely by accident - initially we began by making wooden items such as bottle stoppers, bowls , boxes and a range of wooden door furniture such as Suffolk latches and bolts . These were for our own use and made for fun.
We grew by request into supplying some local businesses and individual customers and it was then that having to buy hardware we found there was no one-stop shop for both specialist box hardware and woodturning kits. Indeed some of the hardware on the market was so expensive it is simply out of the reach of most hobby craft makers.
We imported a few bottle stoppers and hinges and found we had rather more than we could use so we advertised them on the internet and they sold. We were also really frustrated at companies continually trying to sell unnecessary and expensive tools to go with this hardware. There are mandrels, arbours, bushings, presses and all manner of stuff, some is needed much is not.
​
So we set to look at how some basic items could be improved and made simpler – we have developed our bottle stopper system, acrylic polishing paste and even a kit to make your own bowl sander as a few examples.
Because we have used many of our products we hope we know a little about them and we are very much led by the passion of creating rather than commerce. Our latest bottle stopper was developed initially in wood on a lathe until we had the shape and design we were happy with - we just don't think it can be done on a computer in the same way.
Our business has now grown to over 400 products and as we have grown we have developed and designed many products that are unique to Prokraft. We have invested in moulds to manufacture these products and you will see some that have the Prokraft brand stamped into them - they are our products and we are very proud of them. We believe we are the only UK business to have developed in this way - most others just source from bigger wholesalers. This means we have products manufactured in large numbers and carry substantial stocks of many lines.
We are often asked if we have a shop - no sadly even high street shops selling everyday items are falling by the wayside regularly - because our range is so specialist it is simply not worth the expense of having showrooms and shops - the savings we make here we try to pass back to customers by offering great value pricing.
We hope you enjoy your visit to our small online shop and rest assured we intend to keep it that way. We are indeed a small business, we don't have massive marketing budgets, fancy workshops or photo studios and if you buy from businesses that do - rest assured you have paid towards them.
And finally - thanks for visiting, even if you don't buy anything maybe you can pick up an idea for a project or even have a laugh at one of our no-nonsense videos with the sound of horses trotting by in the background – above all keep making your creations.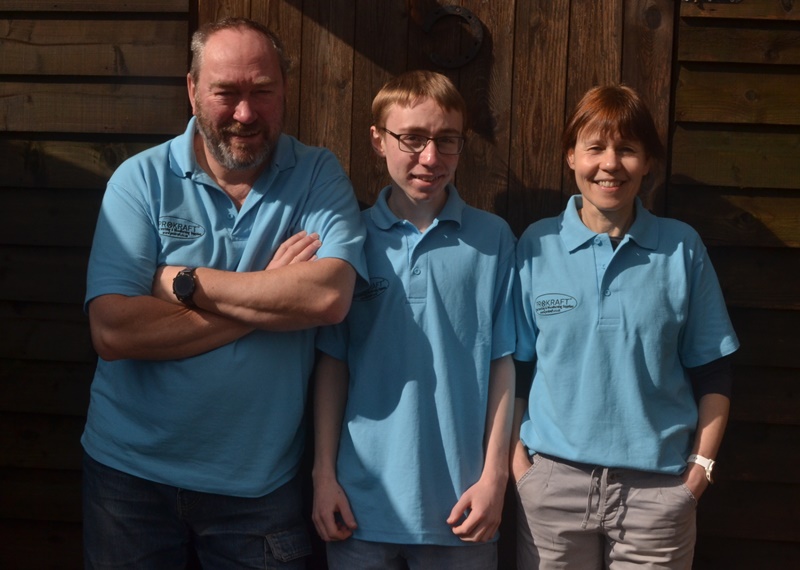 The small family team - I couldn't do it without them